Glenn Highway and Muldoon Road Interchange Improvements

---
CONSTRUCTION UPDATES:
Be alert to flagging operations, shoulder work and trucks entering and exiting the roadway within the project area. If you would
like to receive email updates for this project, please email GlennMuldoonInterchange@spawnak.com.
For more information, call DOT at 644-2882, Neeser Construction at 276-1058 or visit AlaskaNavigator.org.
U.S. Department of Transportation - Federal Highway Administration Diverging Diamond Information Guide:
http://safety.fhwa.dot.gov/intersection/alter_design/pdf/fhwasa14067_ddi_infoguide.pdf
Additional DDI information can be found at: http://www.divergingdiamond.com/
This project will consist of day and nighttime work, and will include intermittent road, intersection and ramp CLOSURES,
various DETOUR routes, NEW TRAFFIC PATTERNS and flagging operations.
Beginning early April, expect CLOSURES at the Muldoon Road and Boundary Avenue intersection, as well as the
northbound Glenn Highway on-ramp at Muldoon Road, and the Northbound Glenn Highway Muldoon Road off-ramp.
Please plan accordingly and follow construction signs for DETOUR routes to Boniface Parkway and Debarr Road. More
information will be available at a later date.
If you would like to receive email updates for this project, please email GlennMuldoonInterchange@spawnak.com.
Neeser Construction Inc. has been selected to construct the Glenn Muldoon DDI. Work will begin in the Spring of 2016,
continue over three seasons, and be completed in the summer of 2018.
Traffic will use the existing overpass on Muldoon Road while the new bridges are being built. Temporary traffic signals will be
constructed at the interchange ramps to maintain traffic flow during construction. The temporary ramps will operate as good or
better than the existing ramps to minimize disruption to the public.
Public outreach will continue throughout construction of the DDI to familiarize the public with motorized and non-motorized use
of the new interchange.
Glenn Hwy & Muldoon Road Interchange Project - View 1 (Anchorage, AK)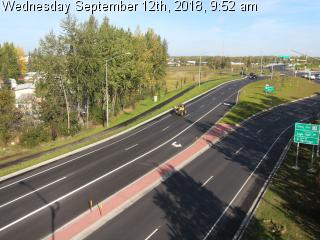 Glenn Hwy & Muldoon Road Interchange Project - View 2 (Anchorage, AK)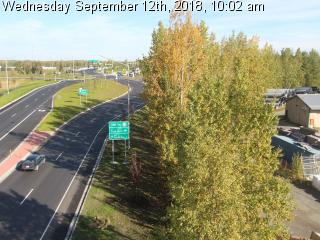 Glenn Hwy & Muldoon Road Interchange Project - View 3 (Anchorage, AK)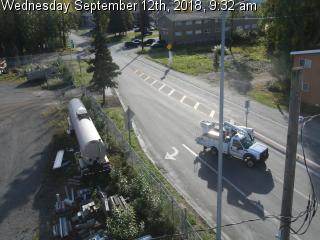 Glenn Hwy & Muldoon Road Interchange Project - View 4 (Anchorage, AK)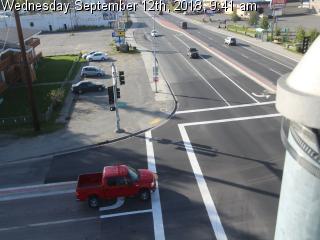 Watch this instructional video on how to drive, walk, or bike through the Diverging Diamond Interchange at the Glenn Highway and Muldoon Road:
Click on the graphics above to view larger
View construction phasing graphics here.
The Diverging Diamond Interchange design requires complete reconstruction of the interchange, including two new three-lane bridges, and offers the following benefits to users:
Operations
Improves interchange operations by reducing delay and increasing capacity.
Minimizes disruption to traffic and business along Muldoon Road during construction because the bridges can be built while maintaining traffic on the existing structure.
Safety
Reduces speeds through the interchange.
Improves safety by removing opposing traffic for all left-turning and right-turning movements to and from the ramps.
Non-Motorized Users
Reduces conflicts between vehicles and pedestrians by signalizing all pedestrian crossings.
Provides a direct easy-to-use route through the interchange for bicyclists and pedestrians.
THE PROJECT

The Alaska Department of Transportation and Public Facilities (DOT&PF) is working with Neeser Construction to improve the Glenn Highway and Muldoon Road Interchange over the course of three construction seasons (2016-2018). Upon completion, the Glenn Highway and Muldoon Road Interchange will have a new diverging diamond interchange. The new interchange will have a much higher capacity for vehicles, reduce travel delays, and provide safer, more efficient pedestrian access across the highway. This project is scheduled to be completed by November 2018.
BACKGROUND

The Muldoon Road/Glenn Highway interchange is the gateway to Anchorage. It is the northernmost junction between the Glenn Highway and Anchorage's arterial street network and it is the primary access to the Tudor/Muldoon road corridor. Constructed in the mid-1970s, the interchange is a rural, partial cloverleaf design.

Overall, land development in the north Muldoon area has caused significant traffic volume increases. Sidewalks and non-motorized trails are limited to the east side of the interchange and they often force pedestrians and bikers to travel out-of-direction to get across the interchange. As a result, some pedestrians cross at non designated locations creating unsafe conditions. Additionally, bridge clearance for trucks and large vehicles is below current minimum height standards.